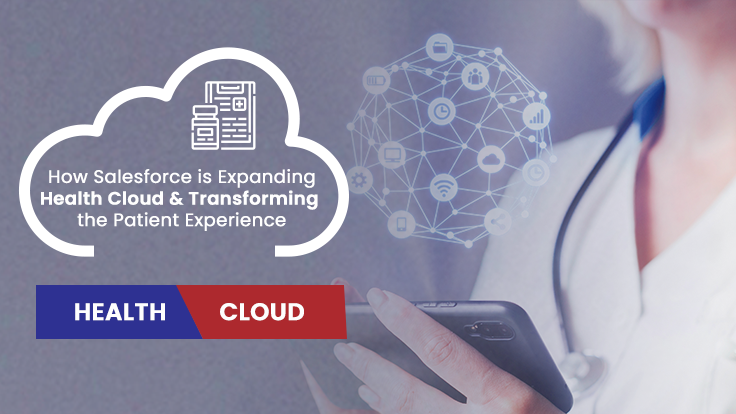 Health cloud was launched to allow healthcare organizations, medical practices, pharmacies, laboratories, clinics, all healthcare providers and, importantly, patients to appropriately access and securely share the patient's vital medical information electronically.
Salesforce Health Cloud was launched to bring the new health IT revolution and to provide a solution to simplify the management of patients. The Health Cloud platform provides next generation healthcare systems and applications with a complex and unified view of a consumer's health.
It provides a 360 degree solution to not only manage patients records but to provide smarter patient management, Salesforce health cloud is providing the same level of personalization as patients expect in their day to day life.
AIMDek is positioned to cater end-to-end Salesforce services with faster time-to-market roll outs at minimal operational costs while ensuring you get a tactical package evaluation and roadmap, robust implementations and rollouts, product development and support, and build exceptional customer experiences. We'll talk in detail about how we can help, let's have an understanding of what's the Health Cloud and how it can be helpful in transforming patient experiences better in this pandemic.
What is Salesforce Health Cloud?
Salesforce health cloud is the changing face of healthcare data. It is a health IT CRM system that incorporates doctor-patient relationships and record management services. Health cloud provides the ability to provide all the facilities from medical record management to patient management.
Salesforce health cloud not only provides all the facilities for customer management but also builds good relationships with them to provide all the necessary facilities according to their requirements.
Benefits of Salesforce Health Cloud
The Salesforce health cloud is changing the health industry in many ways but the most important parts which it provides are :
Salesforce Health cloud provides various benefits but its most important feature includes having all the data of a patient in one place. It relieves the user from toggling between multiple systems to find information about any patient.
Health Cloud provides its patients and members to track their progress towards health goals. The platform lets you connect in real time from any device and quickly address any questions from family members and the patients or members themselves.
It provides you to understand your patients in a new way, it lets you build surveys and assessments to help make smarter care decisions for them.
How Health Cloud can be beneficial during COVID-19?
As per the requirements of the current scenario of COVID-19, Salesforce is providing a COVID-19 Care Response Solution that provides free access to technology for emergency response teams, care management teams, and health systems responding to this pandemic.
This solution provides its users with emergency aid to the patients and maintains their health and wellness using the system. It provides no cost service for six months and after that, they can continue their plan as per the given rates or discontinue the plan as per their requirements. The solution includes :
Pre-Configured Health Cloud Org: It helps to manage the large numbers of requirements for managing patients via phone and chat with emergency response contact center solutions.
Encryption, Audit Trails, and Monitoring: To provide the security and privacy for any type of data of patients to be securely communicated with the system.
Self-Service Resource Center: Salesforce provides to distribute the trusted information to the self service resource center to make the load of calls and messages low by providing the answers through these resource centers which can be achieved using salesforce community cloud.
Learning Platform: Salesforce provides a learning platform to let the users learn how to use a health cloud in order to provide services in a short time and in an efficient way.
Transformation through Salesforce health cloud :
Since the client base increases, agencies require more systematic ways to organize their data and provide them satisfactory services. Salesforce health cloud helps to manage their data and organize their data for them including their appointments, their follow up schedules, send a text or email regarding any particular topic for the patient.
Using Salesforce health cloud patients can look at their health status directly from their reports based on their activities which are being recorded from their wearable and Electronic health records(EHR).
Salesforce health cloud helps patients and members to involve more in self-care on any device that encourages communication.
It offers homecare and telehealth services, meaning patients can do the follow-ups over a quick call in no time.
For example, if a group of patients is suffering from the same problem as dementia then the hospital can organize some activities for all the patients with dementia.
Patients experience about Salesforce Health Cloud
Salesforce health cloud has been launched not only to enhance the experience of doctors and caregivers but also to enhance the experience of patients from where they can have easy access to their health information and data directly from the Salesforce health cloud. It provides personal health and wellness communication across different channels.
Conclusion
We can say, Salesforce health cloud is a technology that provides effective management and care in a nutshell. It helps in spreading a network of caregivers and health providers to connect anytime and anywhere. With Salesforce Health Cloud, we can offer smarter, personalized healthcare to every patient.
Align your unique business models to facilitate faster and efficient sales management and acquisition with our agile Salesforce development and deployment approach which further helps you streamline business operations, increase ROI and customer engagements. We can be your Salesforce consulting partner who can map out a comprehensive and conducive CRM roadmap for optimal implementations. Talk to our experts today!