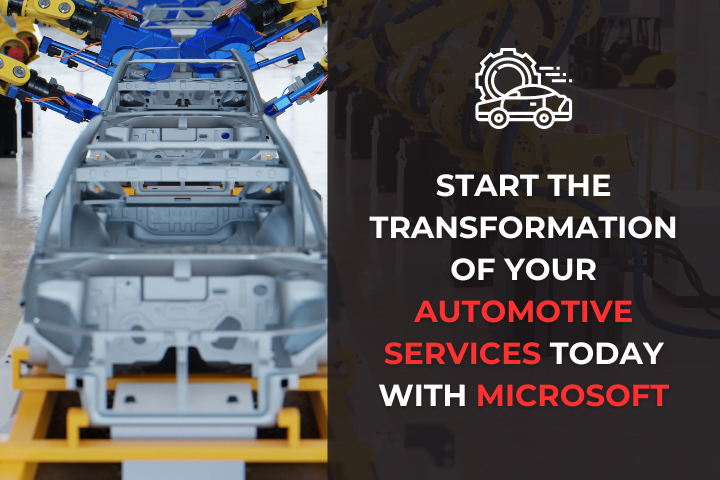 - Avakash Dekavadiya
For centuries, transport and commuting were considered mundane jobs. With the rise of connectivity and terrific technological platforms, the automotive industry has almost become a data mine for all businesses. With smart solutions and curated operations, mobility can evolve and help us fight the one common problem that unites us –the climate crisis.
For a large part of the 20th century, we ignored the need to smartly enable mobility to avoid instances like delays, empty miles, breakdowns, or contingency. These issues can not only be addressed within no time but also be avoided completely.
Current Challenges for Automotive Industry
Mobility has been one of the last beneficiaries of the evolution of technology. Although Microsoft has been offering great solutions throughout its evolution, the industry needed a dedicated approach to transform. Here are some challenges the automotive industry has faced in the last few years.

Lack of Customer Retention
There is a huge gap between once customers make the purchase to their next one. It was very hard to retain customers in the mobility industry.
Nothing in between the purchases could keep the customers engaged with the brand. Before Microsoft solutions for the automotive industry, there were no attempts to reach out to the customers after the purchases with the help of technology.
Technology
There was little to no usage of technology in all different kinds of businesses in the automotive industry. The stakeholders were scattered & involved multiple layers. There was no attempt to make the layers more transparent and to have everyone on the same platform.
It was only until the last few years that we saw companies using Automotive Connected Services to connect themselves to their vehicles. The adoption of technology by fleet mobility inspired all other sectors like logistics, passenger vehicles, delivery systems, etc. to enable their vehicles with technology and to connect them to both users via their mobile devices and to a central system for regular updates and engagement.
Integration
As iterated earlier, the whole funnel from the customer acquisition to the manufacturer or service provider includes so many stakeholders that it was impossible earlier to get them all onboard. Also, multiple partners offered multiple services hence it became really hard for the brands to resolve customer queries quickly.
Every query would lead to an endless loop of communication. Even within the same channel, for instance, the car rental services or fleet management services, there was a clear lack of integration.
Dated Concepts
The automotive industry for years depended on the geopolitical equations and availability of fast-emptying natural resources. Any evolution needed massive technological aid. Any advancement in mobility solutions needed massive integration and elimination of a lot of channels in the middle.
There were no initiatives for years. Hence the industry kept banking on dated concepts. With the world now more united against climate change and in favor of sustainable mobility than it ever was, it was becoming increasingly difficult for the mobility world to evolve without the help of technology.
All these challenges culminated in a mass demand for transformation. Microsoft's smart solutions were further enhanced by Microsoft consulting services helped the industry make that much-needed transformation. Let us take a look at how.
How Microsoft Solutions for Automotive Industry Help this Transformation?
Microsoft, with its range of enterprise solutions, helps businesses to improve efficiency, fasten the workflows and achieve better results. The best way to utilize these resources is to team up with Microsoft partners. All this is done through a robust network that facilitates some of the industry leading apps and services.
For every aspect of the automotive business, Microsoft's Automotive Industry Cloud Solutions have been transformative. Let us break down the solutions along with its aligning Microsoft offerings.

Omnichannel Shopping
Customer acquisition in the automotive industry is a very difficult task. To enable the process to be led by tech, you need interactive marketing strategies, data-driven customer relationships, and streamlined sales processes.
Here are a few things you need to do to improve the sales channel of your automotive business.
Engage online researchers with customized interaction
Retain researcher's data to offer apt customer service
Offer transparency in price quoting
Streamline all the assisting paperwork and approvals on the same platform for processes like insurance & financing
Maintain uniformity in engagement through both digital and physical
Microsoft's solutions:
Microsoft's 360-degree solutions allow your business to recognize customer expectations. It develops customer analytics tools that are accessible to all employees in real time for better customer service.
Here are two key services from Microsoft in particular that helps this cause.
Dynamic 365 Automotive Accelerator: This improves key aspects like customer insights, digital marketing, customer engagement, and OEM to dealer integration for automotive OEMs, distributors, and dealers.
Dynamic 365 Customer Insights: This gathers data from all the channels and sources to have a single view of the customer's journey and discovers key insights to offer greater customer service.
Connected Ownership
Connecting your products or services to a centralized CRM is the key to modern day business. This makes a one-time purchase from your customer to a lifetime of association that opens new doors of revenue.
This allows you to stay in touch with your customers & improve engagement. All team members can access their behavioral data. Based on that, you can offer remote troubleshooting and over the air updates for a better user experience.
With Microsoft's Automotive Connected Services, the resources are there for your benefit but you need to align with the right team to use them for your benefit.
Here is the list of things you need to do to ensure connected ownership throughout.
Reduce interruptions before they arise with the help of behavioral usage data
Drive periodic consumer engagement throughout the product life cycle
Become a tech company from a manufacturing unit to connect directly to your customers without any intermediary channel
Convert one time purchases into prolonged revenue opportunities with cross sell opportunities
Reward your customers based on their set landmark achievements to improve customer engagement
Microsoft's solutions:
Top tech service providers like Microsoft gold partners can help you channel multiple concurrent processes. By channelizing the processes, you can ensure each interaction is relevant, personal, data-driven, and pleasantly effective by tracking them.
Here are ways by which Microsoft empowers connected ownership.
Annata for 365: Enables omnichannel customer journey. It helps you engage your customers with a personal and seamless experience.
Dynamics 365 Customer Insights: Data integration across the channels and a single view to help all teams understand the customer's needs.
Dynamics 365 Marketing: Helps you reach out to your potential customers. Helps you convert leads into sales and helps you understand the campaign results.
Connected Driving Experience
The in-vehicle experience has to be immersive for your customers. Every input from your customer helps you offer better performance and safety through connected tech. It also helps you lay down relevant content and generate some commerce.
Here is how you can improve the connected driving experience.
Avail an immersive operating system inside the vehicle that connects through mobile devices as well
Enable real-time location services
Avail greater accessibility through voice commands on the system
Monitor driving responsiveness through data
Come up with on-demand services through the system
Microsoft's solutions:
Manufacturers need a partner led approach. Microsoft provides a platform that helps all the partners work in tandem and have seamless communication.
Partners have to only think about building the features and not about implementation. Microsoft's powerful tools and partnered Microsoft consulting services take care of the infrastructural needs to offer great third party connected car tech features.
Microsoft Connected Vehicle Platform (MCVP): It provides a robust platform for manufacturing partners to create the finest features that enhance the mobility experience.
Azure Maps: Partners can add maps and allow users to search locations along with routing capabilities which is facilitated by geospatial services API. Create immersive visuals displaying real time locations.
Virtual Assistant Solution Accelerator: Allows users to interact through voice-based AI. Design responses and cross-feature accessibility through voice inputs.
Urban Mobility
Innovative ideas from industry leaders along with Microsoft consulting services can really help us move towards a sustainable future and a renowned way of mobility.
Here is how you can migrate from being a traditional automotive company to a modern-day sustainable one:
Become "mobility service providers" from regular automakers
Avail single point access platform for commuters to plan their trips across the modes of transportation
Provide street and pedestal solutions
Engage in public-private partnerships
Be transparent about user data
Microsoft's solutions:
Companies that want to offer multi-modal commute services have a dream partner in Moovit MaaS. These solutions help you integrate all kinds of data of locations.
Take a look at some of Microsoft's top solutions for sustainability:
Moovit MaaS: Avails great solution for authorities, government bodies, and cities that want to offer Mobility as a Service to their citizens
Azure Maps: Offers a platform for tech providers to build a navigation service that allows routing, and navigation and provides real time traffic and weather information to the vehicle.
Azure IoT: With intelligent IoT based solutions that work on location-based services, you can improve safety measures, reduce commute costs and help people find their places faster.
Fleet Management
With private entities entering the public transport and logistical services, a smart fleet management system is the need of the hour. To offer seamless and rapid features to your consumers from delivery and logistics to commute seekers, you need an efficient system.
Here is how you can improve your fleet vehicle business.
Handle information overload
Use insights to improve vehicle longevity
Avoid traffic through real time data exchange
Integrate and migrate data into newer systems
Manage remote teams
Microsoft's solutions:
Microsoft is committed to powering next-gen fleet management. The actionable insights, hyperlocal intelligence, macro management, autonomous development, and a robust ecosystem from Microsoft help the new age organizations to grow.
Here are some of their key offerings to facilitate fleet management.
Azure: Services on Azure include tracking and management of vehicles, freights and other assets in real time. An integrated navigation system enables accurate tracking of people and goods.
Dealer Management System: Tools like Annata 365 and NAXT provide great features. Annata 365 is an all-in-one cloud-based solution for the automotive, rental, and fleet industries. NAXT is tailor made for those who deal with sales, rental, or maintenance of heavy equipment.
Cognata: A prime manufacturing cloud computing platform for autonomous development like testing for self-driving vehicles. It is a simulation platform that helps manufacturers to eliminate errors.
The service industry is at its peak due to connectivity. It has gone to a level where most companies, no matter what their expertise is on, are converting into tech service providers. Call a Microsoft consulting partner today to transform your business.
Get An Estimated Budget From Our Experts Now
Conclusion
Great businesses optimize the resources at their disposal. It is practically impossible to scale up your business without a streamlined central system. You can get in touch with Microsoft partners to customize these services based on your needs. The results will be flattering.
The automotive and mobility industries are very volatile. There are many stakeholders in the same ecosystem. Without a proper channel and streamlining, you risk your growth. Get your custom-made system today.