UX /UI Design Agency For Enterprise
With technology penetrating deep, virtually, into almost every sphere of today's digital world, it is a mandate to provide rich digital experience to promote increased engagement of people in order to improve organizational efficiency and productivity. To gain a competitive edge in this customer-led market, we combine our strong understanding of the utility-customer relationship and technology expertise to help customers meet their dual mandate of enhanced customer experience and optimizing cost-to-serve.
Engage every customer by seamlessly connecting with them at any point in their digital journey across multiple touchpoints
Activate every employee by driving real-time collaboration and accountability across the enterprise
Optimize every experience for them by modeling and instrumenting every touchpoint
Transform your business operations
Customer experience forms the most crucial battleground on which enterprises are set-up to compete. Technology and choice have granted powers to customers like never before. The momentum and impact of altering customer demands are unrelenting and enterprises more often face challenges in keeping up with their customers. We arm enterprises to win by developing and delivering end-to-end digital experiences accessible across multiple touchpoints and communication channels.
UI/UX Design
Customer interaction is observing an intrinsic shift, seeking a clutter-free and impeccable experience across every digital touchpoint. With our design-first, build-second approach we capture these customer moments to transform your digital touchpoints into dynamic customer engagement platforms thus enabling businesses to build meaningful connections with the audience and help you stay ahead in the game.
With 'user-first' approach, we align customer needs to a comprehensive UI/UX strategy, offering them customized end-to-end design and consulting solutions- optimizing their digital journey, delivering fascinating customer experiences and maximizing cost efficiency for them. We embody real users cognitive findings into modeling unique solutions for our customers. Through our UI/UX best practices and empirical understanding of the market, we aid you to tell personalized stories for an engaging experience.
UX/UI Design For Enterprise Web Applications
Web application as a communication channel is an indispensable component of any marketing strategy for the gizmos like search engine optimization, search engine marketing, online marketing, social media, and e-commerce are presently the spotlight of online communication. A web application's user interface (UI) design is more than the sum of its aesthetic decisions and branding. Thus, for a competent enterprise apps design, UI/UX design is mandatory.
The team at AIMDek works closely with you to recognize your key performance indicators at every stage of the process, from wireframing and information architecture to UI design, front-end coding and integration support. Let your experience be a guest of the' larger side of you' in a remarkable way with our web application experience design.
UX/UI Design For Enterprise Mobile Apps
Mobile phones are no longer restricted to play their conventional role in communication. Rather, they have surfaced as power-packed platforms for innumerable tasks. Leaving the mobile application user experience design as an afterthought can cost you heavily. Investing in quality design from the beginning means increased user engagement which can ultimately lead to higher ROI.
Exceptional designs can further simplify future upgrades and updates, cut down support costs and entices user adoption. We highly value mobile application user experience and can comprehend what all can a mobile application serve you. With our belief 'Design shapes your courage', explore our UI/UX designs for mobile applications.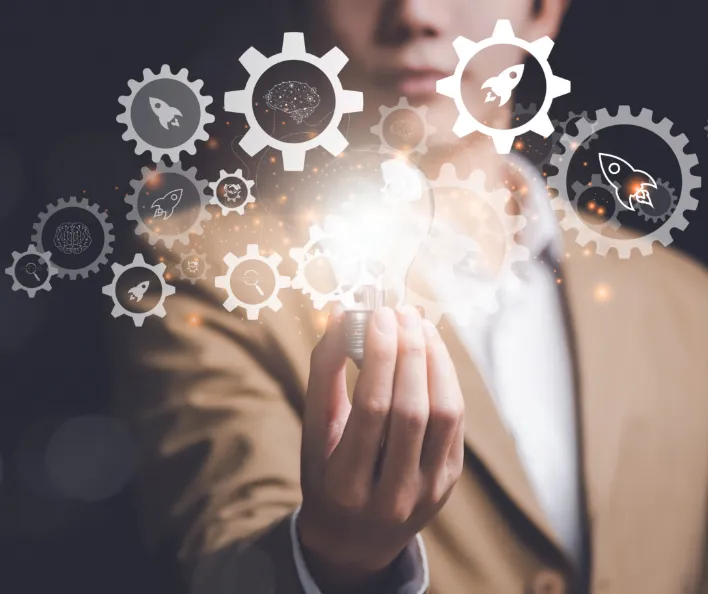 Benefits Of Good Customer Experience For Enterprise Solutions
Customer loyalty
Improved customer engagements
Increased sales and conversion rates
Understand and predict user interaction
Increased ROI
Reduced operational costs
Reduced bounce rates with accurate insights during the design process
UX/UI Innovation And Insights