ONC

Data Interoperability

Mandates

in the

US
To increase digital data interoperability between healthcare systems and data consumers such as CROs, Clinical Trials, Payors, Providers and Pharmaceutical companies, Office of the National Coordinator for Health Information Technology (ONC) has created following mandates:
Recent Government Announcements around Data Interoperability:
ONC has identified HL7 FHIR Release 4.0.1 as the foundational standard to support data exchange
Qualified Health Plan providers are required to implement and maintain a secure, standards-based API
Hospitals to send electronic patient data to other practitioners for appropriate follow-up care
For Medical Devices catering to Patients, CROs, Payers or Providers, they must ensure their data and cloud platform has EHR interoperability
AIMDek's

Data Interoperability

Cloud Architecture for

IoMT & Medical Devices
With IoMT and Medical Device industry facing challenges due to the pricing concerns of consumers:
39% of Medical Device companies are incorporating data as an added value to justify the pricing
31% are offering data distribution channels as a service.
Sooner or later, to become a medical grade DaaS company or to create a Cloud Intelligence platform that shares or stream patient healthcare data to all their B2B data consumers such as CROs, Clinical Trial companies, Payors, Providers and Pharmaceutical companies, they would have to adhere to the HL7 FHIR interoperability mandates!
Introducing

Medical Grade DaaS Accelerator




Architecture

for Cloud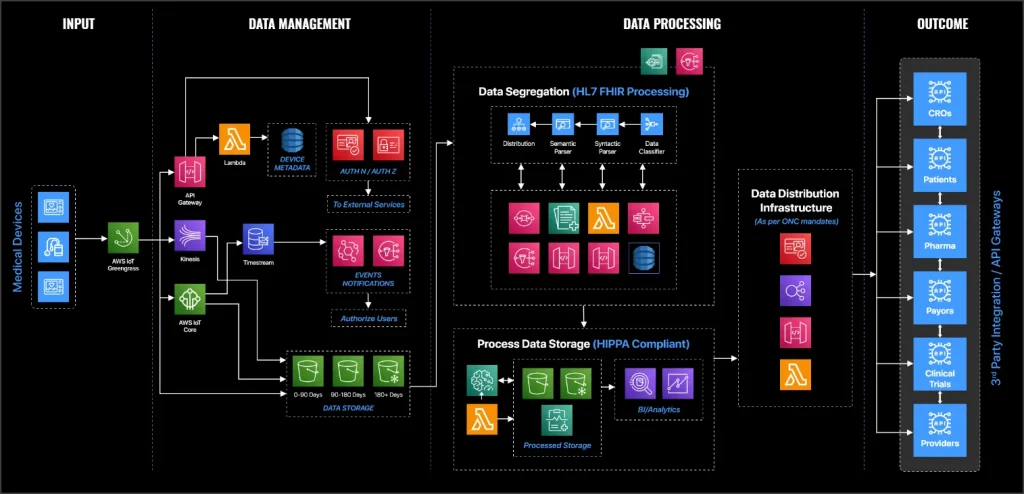 IoMT Streaming Devices
This architecture is defined to transmit any sort of data from edge devices to the cloud.
Data Management Architecture
We ensure that your data is stored securely and that it is HIPAA compliant.
Data Storage
A multi-layer storage facility that helps in cost-optimization for short-term associations and long-term storage.
HL7 FHIR Compliant Processing
A state-of-art data syntactic and semantic parser, classifier, and distribution model that decouple the data filter it into a completely dynamic data set that can be paired and connected on demand.
Post-processing HIPAA-compliant Storage
Post processing the data is stored in a secure and meaningful manner in an elegant database that is completely secure, dynamic, scalable, and HIPAA compliant.
ONC mandate friendly distribution APIs infrastructure
Once the data is processed, it can be delivered in bulk or in near-time streaming to CROs, Clinical Trials, Healthcare Payors, Healthcare Providers, and any other potential data consumers as ready-to-use APIs that are built as per the guidelines set by the Interoperability and Patient Access final rule (CMS-9115-F).
Benefits
Ability to become DaaS and cloud-intelligence platform
6 Ready to use APIs built as per the HL7 FHIR guidelines for Data Consumers
IoMT companies can comply with 21st Century Cures Act as well as Data Interoperability mandates
Premarket

Medical Device Cybersecurity


Readiness Services
Ensure your medical devices' readiness for the US market and get FDA 510(k) cybersecurity approval with AIMDek's premarket Medical Device cybersecurity readiness services.
We deploy a team of subject matter experts that help you understand the process and provide detailed cybersecurity and software security testing services to ensure 510(k) readiness with minimal efforts from your end.
As a part of our comprehensive cybersecurity assessment services, we provide our clients with:
Threat modeling
Device and software Cybersecurity risk assessment report
Medical Device software security testing and assessment reports
Complete vulnerability assessment for third-party software (if required)
A detailed plan for continuing cybersecurity support
LOOKING TO CONVERT FROM
CONSUMER TO MEDICAL GRADE DEVICE ?
Wish to employ our AIMDek DaaS Accelerator?