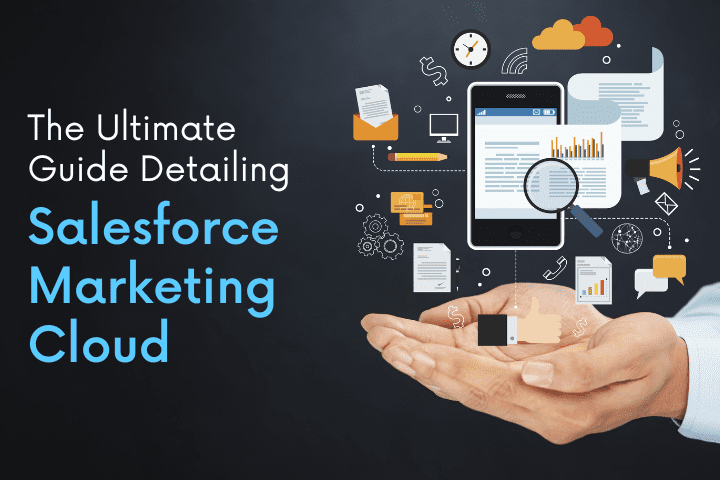 - Avakash Dekavadiya
Presently, the most difficult thing for businesses is to strengthen relationships with customers while keeping them happy. Alas! It's a hard nut to crack as modern customers have more control over business interactions. It increases the problem by manifolds. So, what businesses should do?
The answer- is customer expectation management. It's well defined by Roy H. Williams saying, "The first step in exceeding your customer's expectations is to know those expectations."
The businesses embracing cutting-edge technologies to know the things hidden in plain sight that improves customer engagement, satisfaction, and experiences while improving brand awareness. Salesforce provided the incredible solution- Salesforce marketing cloud to serve the digital marketing needs of the businesses by building unique experiences that draw maximum user attention and engage the existing customers.
Get Our Salesforce Expert's Opinion Today
Salesforce's solution makes it easy for businesses to manage their digital marketing efforts, including- email marketing, social marketing, paid marketing, and others from a single platform. Let's understand everything related to the Salesforce marketing cloud in detail.
What is a Salesforce marketing cloud?
It's a digital marketing platform that optimizes the marketing efforts for varieties of channels to deliver personalized experiences to the customers. With a 360-degree view of the customers, the platform automates marketing efforts to transform customer interactions into insights-driven communication with the business.
Unlocking the information stored in silos and connecting dots of customer interaction across every channel ensures that no touchpoint is missed that leads to loss of sales opportunity. Salesforce marketing cloud solution makes everything easy.
What does the Salesforce marketing cloud feature?
Understanding the customers is imperative for marketers to create a better marketing strategy, execute the plan as decided, and achieve the goals. The Salesforce marketing cloud provides everything by creating an individualized journey across all channels in an automated way through its range of features.
They are-
Make targeted CTAs
Real-time customer engagement
Marketing automation
Push notifications
Social media engagement
Customer marketing analytics
SMS (Mobile messaging)
Cross-functional marketing campaign execution
Taking a step further, the Salesforce marketing cloud provides a range of tools that improves digital marketing efforts. They are-
Journey Builder
The Salesforce marketing cloud tool connects the message with every marketing channel where businesses are promoting their products at the right time.
It promises to deliver a custom experience at every stage of the customer lifecycle by defining customer journeys, identifying distributed marketing channels, syncing messages across all channels, and continuously changing the messages as per the evolving customers' needs. It guarantees a consistent customer experience everywhere that customers expect the most.
Email studio
The tool is primarily created for email campaigns to create tailored email content for reaching out to every individual customer. Email studio builder targets the right audience by creating relevant emails with content customized automatically.
Customers' profiles categorization based on their data simplify the reach out to potential customers in a one-to-one way.
Mobile studio
It instills the omnichannel strategy into marketing efforts with mobile enablement. It increases the user reach as digital marketers can get connected with customers in more ways such as push notifications, SMS, or personalized messages. Mobile studio builder excels at creating hyper-personalized messages with users' location tracking in real-time. Sending relevant messages improves user engagement rates too.
Interaction studio
The solution aims for visualizing, tracking, and manage customer experiences in real-time when users engage with businesses to level up personalization with a one-to-one approach. In a nutshell, it connects every user interaction cross-channel and gains insights to optimize the experience and make a great impression.
Social studio
Creating social followers is not a great deal, but converting them involves a lot of hard work. The social studio tool enables launching custom social media campaigns and gaining insights related to brand experiences. Linking social posts with CRM help in getting a big picture of customers' preferences.
It provides a single interface from where social marketing campaigns are launched for different channels, user engagement is tracked, and necessary actions are initiated accordingly.
Datorama
The tool thrives at connecting and unifying marketing data and insights-driven analytics from all the platforms to closely look at the sales funnel, and optimize leads, and conversion rates. Detailed insights and analytics for all the marketing platforms and individual marketing platform helps in making an informed decision. It provides a time-savvy approach to testing campaigns cross-channel.
When you are not sure which Salesforce marketing cloud tool is required to power your marketing strategy, get connected with Salesforce consultants to get the required assistance.
Why should you choose the Salesforce marketing cloud?
The businesses are not putting all the eggs in one basket and diversifying their marketing efforts which means communication data is dispersed across multiple channels. The increasing customer interactions require a platform where enormous data is better handled and managed by one platform while breaking all the silos.
Salesforce marketing cloud providers can help with a marketing cloud solution by integrating all the data sets, making sense of the data, and delivering personalized content across all the channels that customers are looking for. It takes the customer journey to a new level and nurtures the relationship with customers on all the platforms so that businesses can make maximum profit.
Taking a step further, the Salesforce marketing cloud also helps you with marketing campaign performance analysis so that results are improved. Still, unsure? The Salesforce consulting company can explain to you fairly- how the solution helps in the digital journey.
Which industries are best served by the Salesforce marketing cloud?
Salesforce marketing cloud comes in various flavors to meet the online marketing needs of all sizes and types of businesses. It serves B2B, B2C, and non-profit organizations according to their marketing requirements and budget. Besides, the tool is continuously updated which makes it capable of accommodating the evolving requirements of businesses.
It aims for improving engagement and delivering unique experiences through a single view of the customers. The marketing cloud also supports integrations, analytics, data model, training, data migration, and organizational structure to bring expected outcomes.
You can connect with a reliable Salesforce consulting partner to know how the Salesforce marketing cloud fits the bill for your business. The Salesforce consulting services are a great help.
What are the benefits of the Salesforce marketing cloud?
Better understand your customers
Connecting the data from all the sources scattered across all the devices provides a comprehensive of every customer that helps marketers to understand the customers in a unified way. Also, the data gets displayed in an easy-to-understand format with various visualization techniques.
Personalize customer journey
AI-based Einstein tool featured under the marketing cloud solution enables Salesforce marketing cloud developer to get all the interactions managed by this AI tool. The tool is effective in combining all the customers' data from disparate sources and turning them into customized interactions that make customers feel more personal.
Analyze journey thoroughly
Seamless integration of marketing cloud with Google analytics and AI technology analyzes the customers' journey, which, in turn, helps in delivering the right message to the right customers at the right time. The Salesforce consultants can help you with how to create a targeted customer journey.
Ensure security
The Salesforce marketing cloud solution has all the security measures- encryption technique, PCI DSS compliance, and others baked into it, which makes the marketing efforts secure. It disables all the points that fraudsters can use to make the system vulnerable and unauthorizedly access the customers' data.
Promises innovation
Marketing cloud automation enables businesses to reach out the customers uniquely. It provides a one-of-a-kind approach for dealing with every customer irrespective of their activities on different channels that improve the chances of conversion.
Increase sales
Marketing efforts directly relate to sales results. The insights-driven marketing facilitated by marketing cloud solutions through reports and analysis helps in increasing conversion rates and profits.
Why choose AIMDek to integrate the marketing cloud for your business?
AIMDek is a trustworthy and reliable Salesforce consulting partner that provides a range of Salesforce cloud services to businesses. The team of certified Salesforce consultants provides the Salesforce consulting service that helps businesses know why there's a need for a Salesforce marketing cloud solution and how it fills the void that their customers are realizing.
Being recognized as the best Salesforce consulting company in the USA for bringing winning upshots for B2C and B2B firms with a comprehensive suite of marketing and automation, AIMDek is becoming the first choice for businesses.
Check The Ways To Select The Right Salesforce Consulting Company
The team focused on delighting customers by weaving the digital, personalized experience, that's in demand. Apart from the customer benefits, the user-friendly automation to view qualified leads, accurate database, and other modification capabilities help the businesses grow and expand.
With the right marketing cloud solution in place, you also need the right Salesforce consultants that determine what's right for you. Let's get connected for unmatched results.