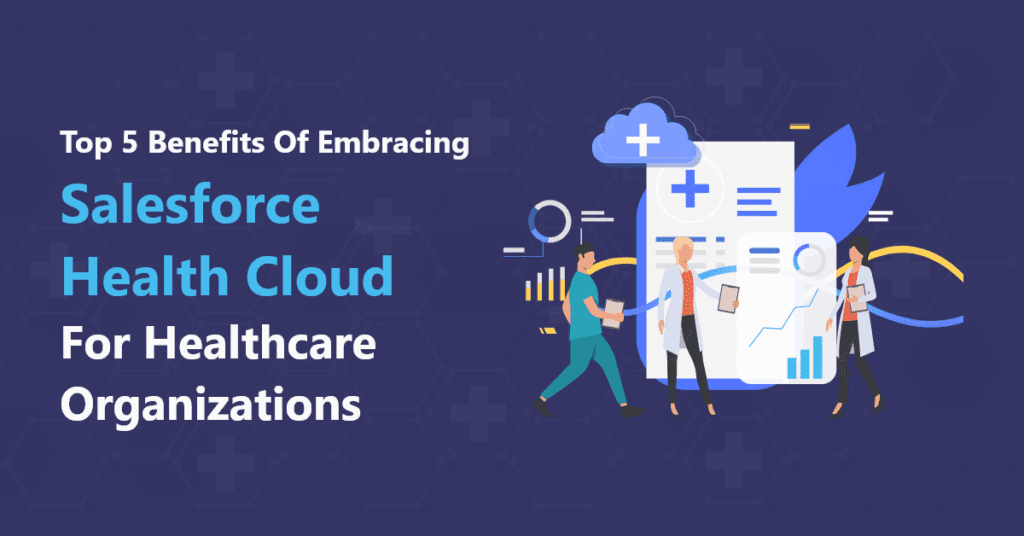 In the last decade, healthcare space has evolved from outcome-centric to patient-centric care (quality care, reduced cost, and patient satisfaction). The patient's preferences for accessing healthcare services, information, and interactions have changed by a large fraction. Stepping in with the changing patients' behavior, it's essential for healthcare organizations to stay connected with the patients.
The blend of technology and healthcare services enables healthcare space to bid goodbye to obsolete practices and methods and stay at the forefront where patients are looking at them. The solutions from Salesforce for healthcare industry can help with improved patient-HCP relationships, control cost, record management, and a lot more.
Healthcare organizations are increasingly using Salesforce CRM platform to power the healthcare services and resolve the issues with Salesforce healthcare solutions implementation. Let's understand it in detail.
What is Salesforce health cloud?
It's an integrated solution provided by Salesforce for healthcare space harnessing the power of mobile, cloud, and social technologies that enable every stakeholder (Patient, admin, doctor, specialists, lab, and others) to access the data anytime, anywhere.
Going beyond record management and relationship management, it facilitates connected patient engagement, pro-active decision-making, personalized care, and patient management through 360-degree view of patient's data and critical tasks. Identifying how Salesforce health cloud benefits your healthcare organization is tricky, so Salesforce health cloud consulting services would help you know the same.
How does Salesforce health cloud bring a bunch of benefits to healthcare organizations?
Enhanced patient experience
The healthcare professionals not only provide treatment to the patients. Instead, they need to handle communication between care teams and patients, physician networks, and others that are siloed systems. It makes the healthcare professionals juggle between different disparate systems.
The Salesforce healthcare solutions unify all the systems, collect data, and makes it accessible on a single platform. The connecting systems and holistic view of patients' data enable HCPs to deliver personalized, quality care through preferred communication channels. The interaction data accessible by healthcare support team allow them to use data intelligently and deliver optimal experience based on coordinating care.
Tribeca Pediatrics leveraged Health cloud from Salesforce for healthcare organizations to deliver personalized healthcare services at scale to thousands of patients of New York and Los Angeles at scale. The organizations can integrate electronic health record systems with a 360-degree view of data distributed across different systems.
Improve engagement levels with preventive measures
Real-time patient coordination with healthcare professionals is all the rage. Salesforce health cloud solution enables home nurses, care coordinators, and healthcare pros to connect and collaborate with patients on their favored communication channel. Piedmont healthcare organization went the extra mile in serving their patients with personalized care and providing necessary treatment before reaching out to the hospital by detecting the variations in their health-related data.
Health cloud leverages patient's social data that helps in identifying all the things that may cause health hazards so that proactive actions mitigate the expected risks. Easy data accessibility also reveals if the patient needs to bring to hospital so that transportation and accommodation facility required to bring it up. The physician's leads are tracked and nurtured across all the departments to achieve maximum benefits. The preventive measures let the people live healthy and stay engaged with healthcare service provider.
Stand up-to-the-par of member's expectations
In the digital age, healthcare members expect a personalized experience with easy access to desired data using preferred device from the healthcare payers. The siloed systems won't allow healthcare payers to fulfill the expectations. Even the manual process is slow and flawed.
Salesforce health cloud from Salesforce for healthcare organizations provides a single source of truth for every member where relevant data across all the healthcare touchpoints is gathered. It allows players to deliver omnichannel experiences customized to healthcare requirements and likings for communication.
Taking a step further, it enables customer support to resolve escalated issues quickly, improve operational efficiencies, and achieve member-centricity through meaningful interactions.
For instance, UnitedHealth Group Company- the largest health insurer is completely member-centric using Salesforce healthcare solutions. It enabled customer care reps to drive personalization in interactions by knowing who's calling even before attending the call and access to relevant information. It has expedited customer service processes.
Iterate services based on patient feedback
Customer reviews are the only way to improve products and services. Healthcare is a patient-centric industry where patients' feedback is vital to deliver quality care that satisfies the patients. Analyzing the patient conversation during different doctor consultations reveal patient experiences.
The Salesforce healthcare solutions helps healthcare organizations to improve patient engagement and loyalty by improving the services based on their feedback. Healthcare clouds automatically collect the patient's feedback and organize them to gain valuable insights of data that strengthen the healthcare system.
Healthcare consultation helps patients to get the right solution that keeps them healthy and fit. Similarly, Salesforce health cloud consulting enables healthcare organizations to know which Salesforce solutions and services help them address the challenges, improve the services, and grow boundlessly.
Seamless integration modernizes the healthcare system quickly
The incompatibility with the existing system makes it difficult for healthcare organizations to employ innovative solutions. It's the biggest obstacle in modernizing the healthcare system. Salesforce health cloud is highly flexible and compatible with most of the systems, making it easily integrated with the existing infrastructure of healthcare organizations.
Salesforce cloud is designed to painlessly work with different interfaces that makes integrating the Salesforce solution with EHR system, ERP, and EMR framework effortless.
CONNECT WITH LEADING SALESFORCE CONSULTING PARTNER
Conclusion
Healthcare organizations are heavily investing in technologies to improve operational efficiency and drive the best health outcomes. Salesforce health cloud helps healthcare organizations to meet the expectations of connected patients for data access and personalization at scale with a comprehensive view of patients' data and system unification. The early adopters have experienced the reimagined healthcare space by putting patients at the heart of care.
AIMDek is a certified Salesforce partner that has a team of Salesforce experts who have years of experience in helping healthcare organizations address the challenges with Salesforce health cloud solution implementation. Still, if you feel you are stuck with Salesforce solution benefits, then Salesforce health cloud consulting services would help.