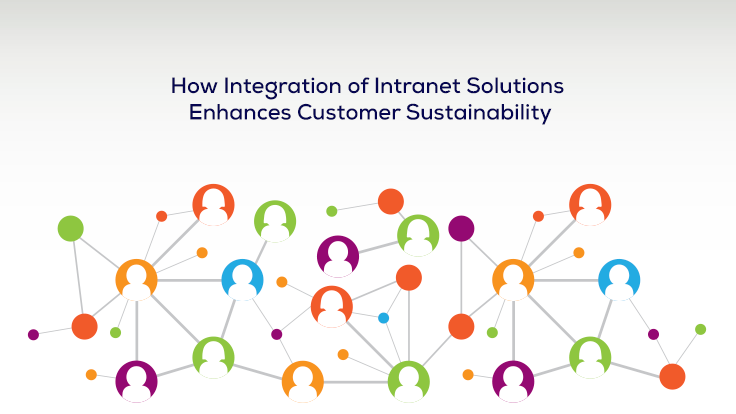 - Avakash Dekavadiya
As workplace dynamics change, employers struggle to match the changing needs of a multi-generational workforce. The way we analyze data, work with our colleagues, interact and make decisions has changed with the new digital technologies.
The increase of social networking, web, information and cloud technology has changed every part of our personal and business lives, making us more day-to-day related. Most of these systems are developed because new technologies result in continuous disruption. As more and more companies change, technology will continue to transform the culture of work and deeply affect the virtual workplace environment of today.
Today, there are several well known prominent players in the market who are now known as tech giants after integrating enterprise solutions for their business strategies; for example: International Business Machines (IBM), Tata Consultancy Services, Accenture, Deloitte, Infosys, AT&T, Telefonica, Cisco, Oracle, SAP SE, Honeywell,Verizon Communications, Wipro, Motorola Solutions, Atos, Intermec, PricewaterhouseCoopers and others. In order to understand how the enterprise solutions have given a hoist under these sectors: 'return of investment' and 'sustainability' of businesses. But in order to achieve this, we first need to understand why and what is it? And why is it important for 'your' organization to embed these solutions?
In today's dynamic market ecosystem, the demand for custom business applications is on a constant rise. Enterprise solutions are becoming the backbone of any business and are gaining increasing importance for businesses of all kinds.
What is an Intranet Solution?
The intranet is the framework of a modern, digital workplace; helping your team from any location or computer in a synced, or "always-on" environment with access to your up-to-date, easily searchable tools.
As an end-to-end enterprise solutions provider, AIMDek's well-designed and secure intranet portal solution facilitates employees/stakeholders in the organization to communicate, participate and collaborate better while raising productivity and revenues. Intranet eases out all the unnecessary complications that crop up in the complex business processes. We address the problems of bringing your enterprise together regardless of its location or size and offer modular portals that assist you to manage the organizational knowledge and share content as per requirements.
To find the right solution
For your company, you need to examine the intranet strategy of each enterprise platform which ensures the way they work is in line with the way you work. You need to assess your internal work before you can analyze the intranet code to find out how an intranet will best serve your staff and company as a whole.
Intranet Benefits to look for
Implementing an intranet solution would unify the workplace and bring your workers into a room where their voices can be heard and their views can be known. Recently, the McKinsey Global Institute concluded that productivity is increasing by 20-25% in companies with employees connected to each other and to the business. This productivity increase will produce real ROI for your company, eventually saving your money by providing your employees with a forum to communicate. This platform also provides all your employees to sync their jobs in one central hub, eliminating the constant need to switch to different platforms–another increase in productivity. The opportunity for user-generated content is what will connect and engage your employees in an intranet solution. An intranet's advantage is that it creates an interactive space to contribute to employees. The old days of sending a static message to the masses are gone, but modern intranets promote two-way communication between employees from every department.
It provides an integrated social media platform: The digital world is run by social media, so incorporating relevant features of social media platforms in your intranet solution can have huge advantages. Allowing space for workers to interact with each other creates organizational connections that can contribute to greater employee satisfaction. External networking also helps in completing tasks. Through organizing meetings, congratulating each other on successes, or simply sharing data with each other, intranets will meet the employees' social needs. The Harvard Business Review found that "social media within the organization and out lower costs and increase the productive capacity of individuals
Improves coordination and communication: Another benefit of the intranet is the space it offers for better collaboration and interaction between employees. Apps that allow the sharing, commenting and editing of documents give employees the opportunity to work together on projects irrespective of their physical distance. The inheritance emphasis put on communication by intranets often leads to greater organizational accountability, and it lets your employees know that effective communication is a top concern for your company.
Integrates external tools: While intranets come with a variety of features, they are really meant to be seen as a hub to house every tool used and needed by your company. A huge advantage of implementing an intranet system is that it can take all the tools currently used by your company and put them together in one space. Whatever applications you may currently use for efficiency and productivity of the company-i.e. You can incorporate G Suite, Skype, Yammer, Slack, or Trello into your intranet solution.
Allows Intranets to configure code and tailor the solution to match your exact business needs. You can define your specific needs and build your intranet solution around them with so many resources and solutions available in intranet solutions. So you're left with everything you need and nothing you don't need. You can also mark your intranet code, which helps unify your company and provides your employees with an example of formatting. Some intranet providers may tweak their technology to suit your needs, so don't be afraid to ask prior to implementation. Every organization has a particular way to conduct business, and an intranet that can be personalized allows you to tailor the content accordingly. Another intranet benefit is that your employees should be able to customize the software themselves without consulting with experts or IT after it has been successfully built. The new age of intranets alongside the company is dynamic, interactive and changing.
Includes document storage: When using an outdated information storage system, employees can waste countless hours. They get lost trying to remember where a folder or piece of information is kept and trying to find it through a mountain of documents. In this case, the advantage of an intranet is that all information and documents are stored under one location. With a powerful search engine, all your employees need to do is search across the intranet to find what they are looking for.
After the introduction of intranet technology by your organization, workers can log in and access it from any computer with internet access at any time. They are no longer linked to a desktop computer at the office, as everything is available everywhere with cloud-based solutions. This is the perfect solution for those employees who are constantly traveling for their business.
Breach in security While intranets are a good way to work together, you put everything at risk if you gather all of your most valuable data and information in one place. Intranet providers are going to great lengths to ensure that their systems are secure, but a system must be in place via a gateway or firewall.
What are the main features to look for?
Clearly, the requirements from an intranet program would vary based on the specific goals of your organization. While the necessary features that vary from organization to organization, however, there are a few important features that cut across most businesses. These include management of ideas and creativity, capability platform and review, and ease of administration.
Chatbots are the latest addition to the changing landscape of the intranet. In order to drive adoption rates and provide extremely streamlined but efficient user experiences, they are gradually being incorporated into intranets. Bots will remain connected to your intranet, providing users with the latest information, news, alerts and more.
As they say, the feeding is the proof of the pudding. Now that you know the essential features you need to look for, consider launching a pilot and monitoring quality performance closely, so you'll know how well your intranet suits your business needs.
Wrapping Up
You need to make sure that you talk to every department's employee level. Intranets are user-led and user-driven, meaning the system's success will be decided by the user. The most important factor in selecting your intranet solution is what the employee wants and needs. Enact without taking into account the requisite prior preparation to ensure efficiency. There are no shortcuts if you are serious about building a corporate culture and operating engine capable of consistently monitoring customer (and employee and partner) satisfaction and making the right improvements to achieve the desired results.
How We Can Help
AIMDek technologies offer enterprise solutions that enable businesses to be ready for the future by improving organizational efficiency and productivity in the workplace. We do this by creating top-notch, state-of-the-art, and next-generation applications and services. We have developed game-changing technologies over the years and helped many Fortune 500 companies, SMBs and start-ups revolutionize their way of doing business. Learn more about our enterprise portal and our offerings and how the integration of these services enhances customer experiences.