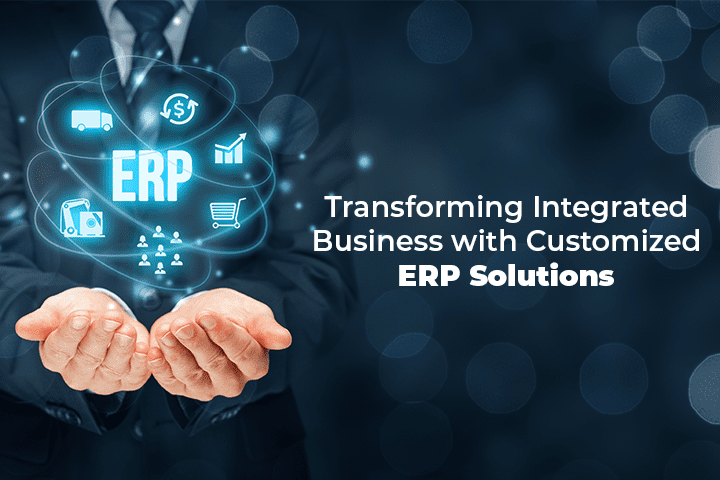 Operating businesses today is more complex than it ever was. With all the frequent technology elevation, cost hikes, and the constant need to offer the fastest and qualitative services requires highly efficient and streamlined business processing.
ERP implementation and business integration services evolve your business operations and streamline your core business activities with robust software designs, customized UX and UI design, software application development, QA, maintenance, and back-end support. The ERP Development aids you to get back your agility with vigorous, proactive, result-oriented, and industry-specific transformation strategies for a rationalized business functioning.
Top 12 benefits of our ERP software development services:
We have a flexible system that lets you respond quickly in case any changes are required. With a 360-degree view of your business activities, you'll be able to adapt rapidly to changes in requirements or legislation, ensuring that all of your systems are compliant around the world.
With the extensive experience and specialized know-how that we bring on board, our services benefit your business in multiple ways. Here are a few aspects that may look very common but yet are the stepping stones for strong business operations.
1. More effective operations
Using ERP systems like Dynamics 365, Dynamics NAV or Dynamics SL for automation, task prioritization, and data integration, you can gain more control over your business's disconnected areas. A customized solution aligned with the business's requirements would result in more efficacy in the operations.
2. Teams that are in coordination
By breaking down data silos, you can increase business efficiency, allow data flow between departments, and promote collaboration.
Teams working in sync, eliminate various malfunctionalities that ultimately improve the delivery of the product or services. Also, the employees develop a cross-functional understanding of the integrated business that allows them to build and implement the business improvements.
3. Data that is unified
Maintain a central repository for data from all departments to eliminate duplication, minimize errors, and improve data quality.
With the support of simple applications and interfaces, ERP helps to manage and streamline functions of various departments. It also enables valuable insights for progressive business operations.
4. Better decision-making skills
With real-time data about your business, you can gain predictive insights and make data-driven decisions.
Maintain the level of accuracy with up-to-the-minute data and analytics. Such a feature helps to encompass real-time reporting and Business Insights, which ultimately leads to better decision making.
5. Cost savings
Reduce errors and uncover problems before they occur—insight through the organization boosts productivity and lowers overall costs.
Utilize your resources with maximum optimization to improve efficiency, productivity and save costs. It would also enhance tracking wastages and transform them into practical resources.
6. It's easy to use and implement
The ERP software can be used either in the cloud or in a mixed cloud setting. It's easy to handle and implement in whatever way you like, depending on your budget and infrastructure.
Since ERP softwares is cloud-based, they are perfect for businesses that encourage workers to carry their own devices. For example, employees of an organization may use Outlook, a web browser, or any mobile device to access their Dynamics 365 applications.
7. It is fully compliant with other goods
Let's understand the scope of compliance with an instance. Other Microsoft products, such as the full Office 365 suite, are easily integrated with Dynamics 365. Companies can switch from Dynamics 365 to Outlook for collaboration, Power BI for data analytics, or SharePoint for documentation thanks to these integrations.
Employees will spend less time exchanging data between apps and learning new platforms if working and moving between apps is made easier.
8. Sales Cycle Shortening
If out in the field or the office, sales teams can access a wealth of valuable consumer data with ERP Software.
Without having to say, "Let me get back to you on that," the team will be able to craft quick answers and deliver information. Companies often obtain a full understanding of each prospect's journey, enabling them to create more tailored sales experiences.
9. Modifiable
You can use the ERP software's built-in automation software and a range of modules to automate activities in sales, marketing, customer support, field service, and project service.
There's no need to be worried if the pre-built resources don't exactly meet the specifications. You can also configure workflows in the ERP software development to suit your unique requirements. Customize the system by adding new fields and artifacts with the customization software.
That isn't the only thing you can alter. The ERP software development services involve architecture, implementation choices, and pricing levels are all customizable, allowing you to customize the platform to your budget, team size, and KPIs.
10. Improved Customer Service Efforts
Every customer's data is collected in vast quantities by the ERP Software. It explores the websites people frequently visit, how they communicate with brands, and the groups they belong to, among other such aspects. Its BI tool can also detect consumer emotions, purchase habits, and brand loyalty – non-quantifiable data points that are critical to the sales process.
Such a database assists customer service representatives in managing each customer contact on an individual basis. Your reps can communicate with consumers with a human touch and suggest customized solutions without missing a beat.
11. The capacity to scale
Depending on the size of your team, budget, and workload, ERP software solutions can easily scale up or down. Like most other Microsoft cloud products, it is based on a monthly subscription that can be changed at any time.
12. Efficiency Improvements
With ERP Software development solutions, your employees can get almost any kind of data they need, helping them to work more effectively and spend less time looking for details. Employees can make smarter, more educated choices because they have access to all of the resources and knowledge they need.
Users will find anything they need on one platform rather than having to access ERP, CRM, files, and Office applications separately.
Partnering with AIMDek is beneficial for you, here is how:
AIMDek understands the ways in which a modern ERP system impacts the company's overall productivity, identifies the complications, and resolves them with ease. We believe that ERP solutions ultimately empower an organization's tactical decision-making and unlock doors for more profitable short-term or long-term opportunities. Undoubtedly, we equip your business with strategic solutions to adapt rapidly to the new technological advancements in regards to your requirements or legislation, ensuring that all of your systems are compliant around the world.
To wrap it up, Microsoft ERP Solutions provides a contemporary, digital and integrated solution that allows companies to anticipate their near future and prepare for challenges before they become consequential. Hindrances in business operations can stymie the analytical thinking process, causing businesses to concentrate on data rather than operations. ERPs are the perfect way to align the company's core processes in this way. Therefore, in order to gain all the discussed benefits, choosing the right ERP solution partner is also vital.
As a result, ERP solutions is a well-thought-out toolbox that contains all of the required resources and is just the right size. Just as tools can make or break an artisan, management software can either spell catastrophe for a business or skyrocket it, depending on how well the tools work and whether they are a good match for the company, which is where ERP Solutions comes in. Partnering with AIMDek, all the doubts about whether Microsoft ERP or if it is the best fit for you will subside.